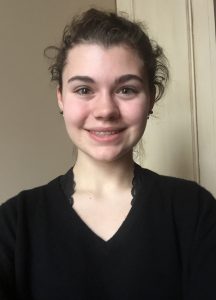 你好! Hello! My name is Alise Riddle, but I go by Ali. I currently attend Olentangy Liberty High School in Powell, Ohio as a freshman. Later this year, I will be studying abroad in Taiwan for the 2018-2019 school year! I am the youngest selected to take part in this longterm program and I am so excited to get the opportunity to discover more about another country for a year! Taiwan was my third choice on my list and I am so happy to have gotten it as my host country! I usually spend my time reading and hanging out at home or at school with my friends. I can't wait to try many new things and create memories abroad in Taiwan. I am meeting with a tutor soon in order to learn more of Taiwan's main language and I hope to continue my learning while abroad and can't wait to fully immerse myself in Taiwan's language and culture. One of my favorite things to do is cook so I hope I can learn a lot about Taiwanese cooking from my host family and future friends there. I also hope that I may have the opportunity to try out some Taiwanese originated arts while abroad. This past year with Rotary has been an amazing experience and I am forever thankful for all the opportunities they have gifted me. I have met so many great people and forged strong bonds with everyone. This experience has brought me closer to my family, who have supported me through everything, and I have gained some of my greatest friends through this program. I will continue to stay connected to them and Rotary during and after my exchange year! Thank you to Olentangy Rotary club for sponsoring me throughout this amazing experience and to everyone in Rotary District 6690 for gifting me the scholarship and helping to prepare me and support me throughout this entire experience. I never would have been able to do this without the programs aid! 再見! Bye!
October 1, 2018
   嘿! I have officially been in Taiwan for a little over a month and I can't believe it's gone by so fast! For this past month I've been spending my time touring Taoyuan, trying new foods and learning more of the culture and language of Taiwan!
      When I arrived last month, I was greeted at the airport by my host family and countless host club and host district members. It was a really welcoming gesture that gave me a nice surprise as I landed! This was my first glance at what was to come during my stay in Taiwan and I have to admit that it got me even more excited and nervous for the future. Within 10 minutes of arriving in Taiwan I had already been introduced to a dozen of rotary members and was caught up in a storm of picture taking. I officially got to meet my host family, with whom I have gotten very close to in the past few weeks. At home, it is typically just my host Mom, host Dad and I, except when my two older host sisters visit for the weekends. Both of my host sisters are in college and therefore are very busy with school. However, we quickly bonded over our similar taste in music and love for food.
      The first few days after I arrived were spent battling jet lag and experiencing city life for the first time. While I do live more on the outskirts, there is a very unique setup to Taoyuan in which no matter where you are, the city is also there. Most of Taoyuan is designed that way with the only indicators to not being "in the city" was the minor increase in green space. I got to meet a few of my fellow exchange students at a rotary movie event where I made some of my first friends. This was the first of many small rotary event which also include my Inbound Orientation where I got to meet everyone and the rotary sponsored baseball game! This was an event that the entire district attended (including all us exchange students) and we got firsthand experience of baseball in Taiwan which was a crazily fun experience with all the crowd and players dancing and singing throughout the game! I also got to see all the exchange students from before and had found out that one of them (Emma from Canada) would be attending the same school and classes which was a slight relief since we were already familiar with each other. Starting school was one of the most stressful but amazing experiences I think. It was nerve wracking due to us being the only exchange students and not knowing chinese, but I quickly realized that almost everyone was super helpful and nice. In school, we are offered our own basic Chinese courses and calligraphy classes where we get a break from the library (where we spend a lot of our day) and advanced classes with an overload of Chinese. The flexibility of our school is something that I've been really grateful for because it has provided me with time to find a comfortable routine for school and also stay close with our classmates and friends. The classmates are all very willing to let us practice and improve our chinese with them while also exercising their own English skills with us.
      Something that I have noticed about living in a foreign country where you look completely different and don't speak the language is that everyone wants to talk with you. Or at the very least, take multiple group photos. It's made school and life such an exciting thing (especially when a student yells "HELLO!" all the way across the school campus just to be able to talk to you!). This is definitely one of the things that makes me smile everyday. Me and my fellow exchange student, Emma, were invited to an English class so we could talk about some of the differences between America and Taiwan, and Canada and Taiwan. Just the enthusiasm of all the students and their eagerness made my day. From that class, the students all had to write down some facts about me and Emma, and America/Canada to Taiwan which we later received from the teacher. These papers were filled with such excited curiosity and kindness that I didn't want to hand them back (and I didn't need to because the teacher made us our own copies!). In school, I have joined a selective art class, the movie watching club and even got to participate it making a Taiwanese dessert called "Ai Yu" with another class which was really memorable and fun.
      With my schools help my chinese has been progressing very quickly! I was very satisfied when I arrived to see how well my prior Chinese knowledge helped me compared to many others. Every day I have two Chinese classes where I diligently learn and study all the new Chinese vocabulary. With everything happening so fast, it's so unbelievable at how far I've come since before I arrived and it astounds me at how great and fast this past month went by. I have set many goals for itself with my studies and for daily life and it is really making a difference! My simpler goals include how many new characters a day, etc., however for daily life I have really been able to advance far with my goals for friends, language, food and culture. The goal setting has been making leaps and bounds for my relationships at school and had put me in a comfortable place with everyone and everything around me!
      All my experiences so far in Taiwan have been filled with fond memories and bundles of fun! With every day comes a new adventure and I truly can't wait for more! This has been such a fantastic experience and everyday I am eternally grateful to my sponsor club and district, my host club and everyone else who I've had the pleasure of meeting during my stay in Taiwan! Without all of them, I wouldn't be able to be here in Taiwan experiencing all of the people, language, culture and food! Everything here has been the best and I can't wait for more in the future!
November 1, 2018
你們好!This is officially the end of my second month in Taiwan and I can't believe how fast it has flown by! This past month I have been having a fantastic time adjusting to school and exploring my community. There are so many things to do and experience, andso for the past month I have been out and about making friends and going on many adventures!
    Earlier this month, I had the exciting chance to go to a concert for one of my favorite bands! They were performing close to my house and I bought tickets with a fellow exchange student to go see them. This was one of the first adventures that I enjoyed a sense of independence and got to go off without my host family to explore. My friend and I had a great time and it was such a memorable experience. This also is what kickstarted my desire to discover more of Taiwan and take actual steps to go experience everything Taiwan had to offer. Also, I have gotten closer with my fellow exchange students through this exploration and it has been super fun to go out and travel the country together.
    Almost every weekend I have been making plans to go out and experience something new. This is what led to my first visit— and definitely not my last— to Taipei. My classmate and fellow exchange student and I got to spend the day together taking the MRT (subway) all over Taipei and taking LOTS of photos. This fulfilling trip inspired us to gather many of the district 3502 exchange students to hang out more and explore together. We all made trips to Taoyuan City to shop and explore the town, visited Taipei together and kept making plans. This really strengthened our bonds and was really great for our culture tour.
   Our recent culture tour was focused on Taoyuan City (plus Zhongli) where we got to explore temples and the "Bye-Bye" rituals, learn all about Tea Culture and even host our own private dance party. It was very enjoyable because of our close friendships and good attitudes to start the day. After that day, we didn't even have the chance to miss each other because of our District Rotary End Polio fundraiser where we competed in chair racing competitions and got to perform "The Cup Song" and "月亮代表我的心" in front of all attendees. It's been super fulfilling to learn so much and I've had such an amazing last month with all my classmates, fellow exchange students and friends.
    Along with all my exploring and enjoyable times, in school I have finally made a fitting routine and have gotten closer to all my classmates. I have two chinese classes every day of the school week which my school offers and it has been paying off magnificently. I am over ⅓ through my 1st Chinese textbook and it has been so great getting to use all my new chinese knowledge when conversing with classmates. I have a lot of free time at school when I do not have my chinese class, so in order to tackle the boredom and use my time wisely, I have taken to studying my chinese for at least 2 classes a day (outside of my chinese classes) and am throwing around the idea of tinkering with another language, learning an instrument or picking up some good hobbies to pass the time. Because, when am I really going to have as much free time as I've been given now?! Never. So why not use my time wisely!
    This past month has been full of adventures, friends and milestones and I can't wait to tackle more of my host country and language in the future. I have experienced so many fun things, but there are always more to tackle so I can't wait to spend more of the future taking leaps and gaining even more memories throughout my Exchange year! Until next month!! 再見!
December 1, 2018
大家好!November has really been such a crazy month to experience in Taiwan! This month was one of my busiest, but it was also such a fun time to go out and experience more. During the past month, I have gotten the chance to go out and explore more around Taiwan than ever before. Recently, I just had my 4 day long southern Taiwan trip with all the other inbounds. This was a great trip to go on because it emphasized all Taiwan's culture through temples, night markets and glimpsing at the geography of Taiwan. We all got to stay in a traditional Taiwanese hotel once which was completely different from what we weee used to, however, this was also our favorite hotel because we got the culture, closeness and beach all in one place. During the trip, each day we visited many places where the Rotarians let us loose to explore and take photos together. It was also a great trip for getting closer to my fellow inbounds and to relax and just enjoy the ride.
      Earlier this month. I got the opportunity to go to the biggest Taoyuan Rotary meeting along with their brother club in Japan's meeting. This was a formal event and it was fascinating how the meeting was run and how everyone interacted through the language barrier! I even got to go on stage with my fellow Canadian Inbound to song and dance to Japanese anime hits. This was super fun! In the audience, we had every other exchange student following our moves and dancing along, even some of the Japanese rotary club members got up to join!
      Along with all the excitement with rotary, this month I had much more opportunities to go out with my classmates and my friends to have fun. One weekend, four of us inbounds took the train to Taipei just to go ice skating! It was a fantastic day and it was so fun to relive some of my American memories half a world away. There were also many weekends where we all went out to just hang out or to go see the newest movie.
     Through November, I have taken many of my goals and I have finally gotten to act on my goals to make a good routine for learning my host language. I do have daily lessons in school, however, my host dad and I have also gotten to start private lessons at home after school where we are slowly working through a second grade Taiwanese textbook together. I have also started using schedules at school so I can be more efficient in learning, yet also have free time to relax and read. My chinese is coming along great and I can't wait to improve even more in these coming months!! 再見!
January 1, 2019
你們好!As of the month of December I am officially 4 months into my exchange and around the halfway point!! December has been the craziest month so far and I have been constantly busy with holidays, school and rotary. December of course includes Christmas which has been a completely new experience for me. This month has actually been one of the hardest for homesickness and has been the only notable time where I've experienced homesickness. With all the special American holidays and activities, just experiencing Christmas with everyone here is super fun, however it did make me reflect more on past Christmas's back home. My class also had me and my fellow exchange students host a Christmas party where we had a week-long gift giving followed by games and a secret Santa exchange. This is also what had brought me even closer to my classmates and it has been a fantastic thing to experience. Rotary in particular has helped us celebrate by hosting a Christmas party for the Taoyuan Inbounds and a New Years trip where we got to see the Taipei 101 fireworks in person!! At the Christmas party I got to show off some of my chinese to friends and rotary members by giving a 7-minute speech about my past four months in Taiwan!
Though all the celebrations and the importance of December, this has definitely been my busiest month (where I was at a huge disadvantage when spending my allowance) and I have had such a fulfilling month filled with gifts, food and friends! Until next time! 再見了!
February 1, 2019
嘿嘿! Hello! The month of January has been a super great start to the new year! During this month, I did lots of fun activities with friends and went many fun places. To start out my month, from New Years Eve to New Years Day I got to go on a Rotary trip to Taipei 101 to see the fireworks and have fun. This was a great trip for us exchange students because we got to go meet other rotary students in other Taiwan districts and it was a really cool experience to celebrate the New Year together. For the first half of this month I still had to go to school and with my clsssmates we started to seriously plan out our class's May concert. This was fun because everyone came together to act, sing and film for our upcoming performance. Everyone was super dedicated and hardworking, while also having fun each practice. I personally am working with my other classmates to film and act in a short film for the introduction to our May performance. This has brought me closer to lots of my classmates and got me talking to a few who I hadnt really interacted much with in the past. Our Winter break has also started this month. This is the break for Chinese New Year which comes early February. For three days of break, all my classmates and I still went to school to practice our performance, but for the rest I have gotten to enjoy lots of free time and hangout with friends. With rotary, there was a charity orchestra performance that I attended which was absolutely amazing! We got to hear so many instruments and after we all went to eat at a nice restaurant with all the performers which was super exciting. We also had another culture tour this month where we trekked around Shihmen Reservoir and many other places. We visited fsmous temples, had some fun building with clay and even got to make DIY pizza which was a delicious way to end the night! This month I also got to go to the doctors for the first time, which was an interesting experience. It looked almost more like a dentist office and it was super overwhelming to eee how fast they shuffled people in and out for treatments. Other than all those fun experiences, Chinese New Year is coming up very fast so I am very excited to experience and write all about that for next month!
下次再見!
March 1, 2019